FUNNY... SHEESH Serious Sketch Comedy and Improvisation
The FUNNY SHEESH Sketch Comedy/Improv Troupe was founded by Karen Christie Ward, Penny Di Marco, Sharon Fogarty, Jason Grossman, John Hartmann, Timothy Joseph Ryan and Renée Torrière. The performers have extensive backgrounds in music, dance and theatre and have written for and toured in productions throughout the country.

FUNNY SHEESH has unveiled its skewed perspective at: Carolines, Chicago City Limits, CB's Gallery, Public Theatre, Collective Unconscious, Archway Inn (Bronx), Dannys Skylight Room, Dont Tell Mama, HERE, Naked City Coffeehouse (Cambridge, MA), manhattantheatresource, Stand-Up New York, Surf Reality, The Duplex, Austins (Queens), The Knitting Factory, Plum Crazy (Clifton, NJ), The New York Comedy Club, The Sidewalk Café, Tracy Js, Syncronicity Space, Tribeca Lab, Upstairs at Roses Turn and The West End Gate.

Over the years, FUNNY SHEESH has explored such diverse subject matters as spaghetti westerns, insurance fraud, talk radio, self-censorship, personal ads, the proper use of toothpicks, monster party mixers, forgotten astronauts, martyrs at home, dating sheep, bad wedding proposals, the sex life of professional wrestlers, dancing police and various methods of suicide on and off stage.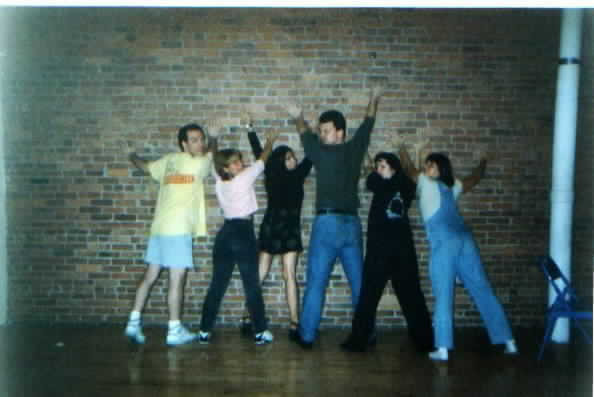 The comedy relays what is funny and necessary reminding us that truth is hysterical, whether it be funny ha-ha or FUNNY SHEESH. Most importantly, no one is afraid to look silly.
Ever.