THE BALLAD OF RODRIGO, the hardboiled noir sequel to DOUBLES CROSSED, will be mounted in 2014!
"Doubles Crossed provides a successfully executed variation on an already enjoyable theme…One might say Mr. Grossman has engineered a comedic noir nouveau. Amber Gallery's staging is as outlandish as the script calls for...and earns great performances..." Patrick Garrigan, THEATERONLINE
"Doubles Crossed delivers on all counts. It pays affectionate tribute to the noir formula….Its carefully drawn, super-complicated plot qualifies as a splendidly satisfying thriller…Doubles Crossed works beautifully on stage..." Martin Denton, NYTHEATRE.COM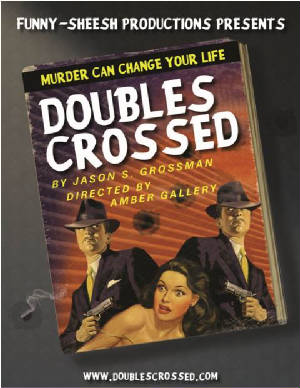 DOUBLES CROSSED
A gangster noir comedy thriller
The Robert Moss Theater
440 Lafayette St., 3rd Fl., NYC
Produced June 2012
A modern day crime caper! Don't miss this homage to the gangster movies of the 30's-40's!
Synopsis: Time: the present. Place: the big city... Dimwitted yet determined police detectives Ramsey and Flapjack have been hunting hoodlum Freddie (aka Freddie the Finisher) and the notorious Dead Street mob with nothing to show for it. Now, Freddie's identical twin brother, hometown hero and newly appointed FBI chief Irving Tower, is coming to town. With a retiring police chief and a crackerjack reporter breathing down their necks, the boys have only days to stop Dead Street's dastardly quest for the heist of the century and solve a femme fatale's bizarre missing person case. Gumshoes, guns and gams galore!
Cast: Monica Blaze Leavitt*, Gregory Cohan, Steve Deighan*, Victoria Guthrie*, Jim Heaphy*, James Holden, Cindy Keiter*, Ron Roth*, Ryan Stadler*, Allen Warnock, Tori Watson* (*denotes AEA member)
Crew: Catherine Siracusa & Sidney Levitt (Costumes), Joshua Levin (Stage Mgr), Ryan Metzler (Lighting), Giovanni Villari (Sets), Jaq Sarah French (Asst Dir), Monica Russell (Fight Dir), Keith Chandler (Video Dir), Nick Dransfield (Image), Sharon Fogarty (Music Arrangmt/Choreog), Ryan Stadler (Video Edit), Peter Dizozza (Piano)