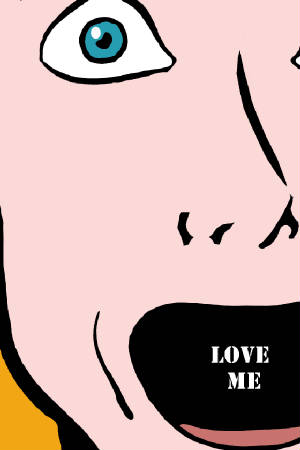 LOVE ME
by Jason S. Grossman
directed by Rachel Klein
The 4th Street Theatre
83 East 4th St., NYC
April 30 - May 16, 2015
Equity Approved Showcase (pending)
LOVE ME Casting Notice (Feb. 2015)
Perfect Love Gala tickets 2/28/15
See and hear what's going on inside Charlie's head in LOVE ME, a self-conscious comedy in three acts!

It's the mid-1990s in New York City, and underachieving writer/motivational speaker Charlie Styptic is mired in a lifelong love life slump. Forever lovesick, he's haplessly counseled by a simpleminded sidekick and a womanizer he's just befriended. Will he ever find love? Or will he be eternally controlled by the incessantly critical voice in his head?
Over 15 years in the making and inspired by the comedy of the original Funny… Sheesh troupe, LOVE ME is an extreme comedy about the never-ending search for love and artistic fulfillment in an unforgiving world. It's 44 furiously fast scenes of belly slaps, belly laughs and acute cognitive dissonance.
LOVE ME (in Plays & Playwrights 2011) on Sale
ORIGINAL PRODUCTION
June 2010
The Robert Moss Theater, NYC
Director: Daryl Boling
Production Stage Manager: Laura Schlachtmeyer
Lighting Designer: Lauren Parrish
Costume Designer: Izzy Fields
Assistant Director: Phillip Chavira
Postcard/Image Design: Daryl Boling
Costume Design: Isabelle Fields
Set Design: Sheila Phalon
Cast:
James Cichewicz*, Kaira Klueber, Ridley Parson, Aaron Rossini*, Daina Stefanie Schatz*, Laura Schwenninger*, Victoria Watson*, Jeff Wills*
(*member AEA)